Press
WHO THROWS THE BEST PARTY IN RICHMOND???
Well I can't say for sure that it's the "best" party in Richmond but The Art of Noise is truly a one of a kind – can't miss event. Last week's sold out "Thanksgiving Edition" at The Hippodrome was powered by The Heavy Hitter DJ Lonnie B, DJ Marc, and Mad Skillz on the turntables along with Danja Mowf and Kelli Lemon hosting on the mic.
The Art of Noise is described as "four turntables and three DJ's spinning yesterday's music for today's people," but the event has evolved over its nearly two-year lifespan. I would describe Art of Noise as the best event in RVA for true music lovers – notice I did not say just hip hop fans, though they are welcome. The Art of Noise emphasizes a wide range of music that is designed to fill the dance floor, I'd call it "feel good" music.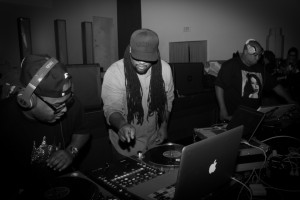 four turntables and three DJ's spinning yesterday's music for today's people," but the event has evolved over time…
It's part dance party, part family reunion. If the music were a person, it would be an old friend that you haven't seen in a long time, giving you a hug, a big smile and a drink, and asking you, where you been. The Art of Noise  has an extensive playlist. The DJs  spins everything music lovers appreciate from Luther Vandross, to Full Force, to Rob Base, they all made the cut last week. The crowd almost exploded during an amazing, Jay-Z led, Roc-a-fella melody.  Though I didn't witness it last week, I've been told Nirvana and other popular rock bands occasionally come out of the crate as well. The music cannot be labeled, unless you simply labeled it good music.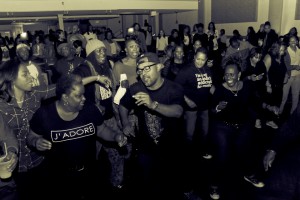 It has been a gradual build up for the Art of Noise audience. The event has steadily increased attendance for every event, leading to last week's pre-ticket sell out. The crowd is diverse in age but slants to the more grown and sexy crowd (mid to late 20s and above) and they do dominate the dance floor. While the fashion is just as diverse as the audience, I enjoy the men and women who dress above casual. There is nothing like getting dressed up, hitting the town, and knowing that you're going to get an amazing night of music with your friends.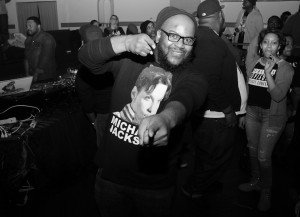 There were a few impromptu dance battles, most of them led by Mad Skillz. But the absolute best part of The Art of Noise is that feeling you get when "your" song comes across the speakers. People in mid-conversation, leaving their friends just to get on the dance floor. And that happened with just about every song played. You get that sense that while DJs are spinning for the sold-out crowd, they were also spinning for each other. With every song Skillz would look at Lonnie B, or Lonnie would look at Marc, or Marc would look at Kelli, and all of them with that slight smile and head nod that expressed, I got the crowd now – just wait to see what I have coming next.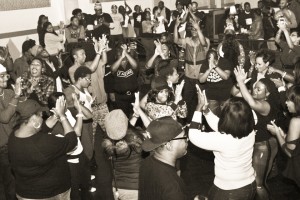 The Art of Noise is an event that you must experience "first-hand." Play close attention to the dates because it's not a weekly or even monthly event. DJ Lonnie B normally announces them on holiday weekends but you never know. You just have to check his website and hope you buy your ticket early.
Originally posted on The Cheats Movement on Dec. 4th, 2014